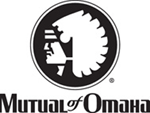 Mutual of Omaha Insurance Company founded in 1908, is a full-service, multi-line provider of insurance and financial services products for individuals, businesses and groups throughout the U.S.
If you would like to compare the Mutual of Omaha Medicare Supplement rates please feel free to click on the appropriate state below.  I have also included other Medicare Supplement company rates for your convenience.
Monthly Rates:
Mutual of Omaha - Colorado  -  Florida  –  Missouri  -  Nevada  -  North Carolina  -  Tennessee
United of Omaha - Arizona  -  California  -  Indiana  -  Louisiana  -  New Jersey  -  Oregon
United World - Kansas
Omaha Insurance - Kentucky  -  Maryland  -  Michigan  -  Ohio  -  South Carolina  -  Texas  –  West Virginia

The Mutual of Omaha Medicare Supplement rates above are for the Mutual of Omaha Insurance Company, United of Omaha Insurance Company, United World Insurance Company and Omaha Insurance Company.
Here is an interesting "throw-back" article about Mutual of Omaha.  You can read it here.
Enroll Today and Start Saving Money … Remember, you can change to a Mutual of Omaha Medicare Supplement plan anytime of the year.  Why wait if you can start saving money today by switching companies.  Call today, I'll help you get started today.
Other Company Medicare Supplement Rates, you can view them here.
Quick Links …
Travel Insurance

– Working, living studying or vacationing abroad.




Dental PPO

– ($44 / month) Includes; Dental, Vision & Silver Sneakers.
Guarantee Issue … Are you in a Guarantee-Issue situation? New to Medicare, coming off of an Employer Group Health plan, is your Medicare Advantage plan being canceled?  These and many more "qualifying events" allow you to enroll in to a Medicare Supplement plan of your choice … guaranteed.  Click here to see all the available options.
Any Doctor or Hospital who accepts Medicare … With a Medicare Supplement plan, you can see any doctor or hospital who is Medicare-Approved in the U.S.  No need to check insurance company physician directories or search which plan accepts your doctor.  If your doctor is Medicare-Approved, simply make the appointment and go.  Also you won't need a referral to see a specialist.  Access to medical care is one of the great options of having a Medicare Supplement plan.
Medicare Part D Rx plans … Mutual of Omaha Medicare Supplement plans do not include the Medicare Part D Rx plan, so you will need to enroll in a separate Medicare part D Rx plan, which will help you pay for your prescription costs.  A good place to start you search is right here.  Simply contact me and I'll help you find the best Part D plan for your medication list.  If you would like to do this on your own here is a good place to start.
Under-Age 65 Medicare Supplement … Depending on the state you reside, you may be eligible for a Medicare Supplement plan instead of your only options of staying on Original Medicare or a Medicare Advantage plan.  You will need to take advantage of any open-enrollment situation which is available to you when enrolling into a Medicare Supplement if you are under age 65.  You can read more about that here. along with the different company plans and rates.
Plan Highlights …
Your Mutual of Omaha Medicare Supplement policy is guaranteed renewable.  It cannot be canceled.  It will be renewed as long as the premiums are paid on time and the information on your application is correct.
Your Medicare supplement benefits will automatically increase as Medicare deductibles and coinsurance increase, so you can be sure your benefits will never decrease.
You cannot be singled out for a rate increase, no matter how many times you receive benefits.  Your premium changes; (a) each year on the renewal date coinciding with or following the anniversary of your Policy Date until you reach age 99; and (b) when the same premium change is make on all in-force Medicare supplement policies of the same form issued to persons of your classification in the same geographic area where the policy was issued.
Your coverage begins immediately.  There is no waiting period for preexisting conditions.  Benefits will be paid from the time your policy is in force.
Your Mutual of Omaha Medicare Supplement policy enables you to see any doctor or hospital in the United States who accepts Medicare.
Your coverage goes with you … Just like Medicare, your Medicare supplement covers your health care needs anywhere in the United States.  With some other health care plans, there may be charges for care no matter where you go.  Carefully check all the plan's travel rules and restrictions.
Enroll Today and Start Saving … Call and I'll send you the appropriate Mutual of Omaha Medicare Supplement enrollment forms.  The enrollment process typically takes a couple weeks.  When complete the company will send you an ID card along with a plan policy.  I will help you through the enrollment process to make sure it is quick and accurate with your desired effective date.
Other Company Rates …
Anthem Blue Cross    Gerber    Forethought    Sentinel Security    Blue Shield    Family Life    Anthem Medicare PPO
Traveling outside the U.S. this year?  Medicare does not offer coverage outside the U.S, and domestic health insurance only provides limited emergency coverage in certain situations: Click Here
A quick note … My services to you are free.  There is no difference in premium costs regardless of where or who helps you enroll.  I am an independent agent with no ties to any company, though i represent many.  I can help in a number of ways; outlining coverage's, plan descriptions, enrollment, help with services issues.
Feel free to call or email anytime with questions, I'm here to help.
John Conner
800-700-1246
john@johnconner.com