Travel Insurance

 …

Living, working or studying abroad?  U.S. health insurance stops at the border, and Medicare provides no coverage outside the U.S.  Travel Medical coverage for: Vacation, work, study or living anywhere in the world.

 .

Medicare Supplement …
New to Medicare and looking of a Medicare Plan, or are you a current Medicare Member and shopping for a different company.  Medicare Supplement plans can be changed anytime of the year, because they do NOT have "annual open-enrollment periods."  Simply compare plans benefits and premiums and complete the enrollment forms and apply.  You also have the "Birthday Rule" which allows you to switch companies on the month of your birthday without answering questions regrading your health history.  The transfer is guaranteed regardless of health status.
Click Here for Info
Medicare Advantage & Medicare Part D Rx plans …
Medicare Advantage and Medicare Part D Rx plans do have an "annual open enrollment period" which is every year from October 15 through December 7 which allows you to change plans or companies for a January 1 effective date.  If you are new to Medicare you have 3 months to enroll in a Medicare Advantage plan which is called the "Initial Enrollment Period."
Click here for info

Group Health Plan Options ( 2-100 Employees) … 
Employers enjoy the many options available to their companies employees.  Group health plans can be chosen as a single plan for all employees, or choose the "Mix-N-Match" option, so each employee can choose their own plan to fit their unique needs.   Other options available are; Dental, Vision, Disability and Long Term Care.
Helping you keep it simple and affordable every step of the way.  In times like this, isn't it good to know we are working hard to help your company and your employees save money on health care costs.

Travel Insurance – Medical coverage outside the U.S.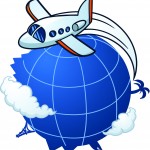 Medicare provides no coverage while traveling or living outside the U.S.   Medicare Supplement "foreign travel" benefits are limited to emergency care only with a maximum benefit of only $50,000 and will only pay during the first 60 days of your trip.  More and more U.S. citizens are becoming aware of the many gaps and limitations and are not leaving their health to chance.  Go with a Global U.S. leader and a name you can trust.  Global protection for; Vacations .. International Students .. Expatriates .. Employees working abroad and Missionaries.  Go with a global leader; GeoBlue who is affiliated with the Blue Cross companies.  Click here for Info.
GeoBlue International Travel Medical Insurance
There is a difference between Travel Insurance (Trip Insurance) and International Medical Insurance.  Travel insurance is also called Trip Reimbursement and is designed specifically for vacations outside of your home country.  The GeoBlue Travel plan includes reimbursements for; lost luggage, missed connections, cancellation of vacation or trip, along with medical expenses and emergency evacuations.
International medical insurance is either a short-term or long-term comprehensive medical insurance policy with coverage for hospital, outpatient, prescriptions, maternity, office visits, physical therapy and emergency evacuation services, and works with a select network of international doctors and hospitals.
Both include 24/7/365 "concierge" services which allow you to speak directly to GeoBlue with any issues or emergencies, also translators are available to discuss your situation in the local language of the medical doctors, staff and hospitals to expedite care and treatment.
GeoBlue is the trade name for the international health insurance programs of Worldwide Insurance Services, an independent licensee of the Blue Cross Blue Shield Association.  GeoBlue International health plans have a Global network of certified and approved physicians in over 180 countries, along with a domestic network that includes more than 90 percent of physicians and 80 percent of hospitals across the U.S.  Short and long-term Global travelers can leave home feeling confident that a trusted source of care is available at a moment's notice—no matter what country, town or time zone.  GeoBlue's highly qualified doctors speak your language, treat you like a friend, and bill GeoBlue directly for their services.
It's a worldwide, all-access pass to an exclusive level of care. Use your mobile device to quickly and conveniently connect to quality care across the globe for anything from emergency and hospital care, to outpatient doctor visits, lab and X-Ray to filling a prescription, translating your symptoms, showing proof of insurance and finding the right doctor wherever you may be worldwide.
CLICK HERE FOR MORE INFORMATION

Free Service … My advice and services are free of charge, and the premium you pay should you buy a policy through us will never be higher than going direct to the insurer.
John Conner
800-700-1246
john@johnconner.com