Please feel free to use this website as an information resource for yourself or business.  I have listed benefits and rate information for the following policy types:  Medicare Supplement, Medicare Advantage, Health Insurance and Travel Insurance.  Also, please feel free to contact me anytime with question or comments … John Conner.
Medicare Supplement
Medigap plans such as; A, F, G, N and others all provide a different level of coverage.  There are plenty of plans and companies to choose from when comparing Medicare Supplement or Medicare Advantage coverage.
I'll be happy to give you the info right over the phone, no obligation.  If you are new to Medicare and just want to have a better understanding of how all of this works, again call and I'll help explain how the different plans work for your situation.
Medicare Supplement plans can be changed anytime of the year, because they do NOT have "annual open-enrollment periods."  Simply compare plans, benefits and premiums and complete the enrollment forms to apply.  You also have the "Birthday Rule" which allows you to switch companies on the month of your birthday without answering questions regrading your health history.  The transfer is guaranteed regardless of health status.
Medicare Advantage & Part D Rx plans
Medicare Advantage and Medicare Part D Rx plans have an "annual open enrollment period" which is every October 15 through December 7.  This allows you to change plans or companies for a January 1 effective date.  If you are new to Medicare you have 3 months from your Medicare coverage start date, to enroll in a Medicare Advantage plan which is called the "Initial Enrollment Period."

Health Insurance
Individual, family or business health plan options …  I offer a full range of Individual and Group Health insurance options that provide affordable and flexible benefit options.  Call today to hear more about your benefit and rate options.  Click here for more info.
Aetna  –  Anthem  –  Blue Shield  –  Kaiser
Your employees will also appreciate the personalized programs that help manage and coordinate care for more than 40 chronic conditions. 360° Health can help your employees at all stages of their lives, and wherever they are along the health spectrum.  Call for a group health quote today .. 916-682-1117.

International Travel Insurance
IMPORTANT:  The right policy allows you access to the best available care coupled with comprehensive medical insurance coverage, either down the street or across the globe.
At home or abroad, are you bound by strict doctor and hospital network restrictions, or are you able to receive care from doctors and hospitals of your choice?  Your medical plan will determine who you can see, and when you see them.
Medical insurance policies are specifically designed for either domestic or international use, not both. Local, regional and global insurance rules and regulations make your policy choice as important as the coverage itself. It's important you understand how your plan works with geographic limitations, along with any benefit or provider restrictions.
Families, Executives, Employees and Students living, working and studying abroad.
Sending employees abroad on a foreign work assignment, or need to find International Health insurance for a Third Country National.  Maybe you are a global family living in several locations throughout the year, or an International Student attending school outside of your home country.
Domestic health Insurance and Medicare provides very little and often NO coverage while traveling or living outside the U.S.  More and more U.S. and global citizens are becoming aware of the many limitations to their local health plans and are not leaving their health to chance.  Global medical insurance protection designed specifically for; Expatriates .. Employees .. Third Country Nationals .. Family Vacations and International Students.  Go with a global leader; GeoBlue who is affiliated with the Blue Cross companies, or Cigna Global.  Click here for Info.
International Health Insurance Long-Term Plans: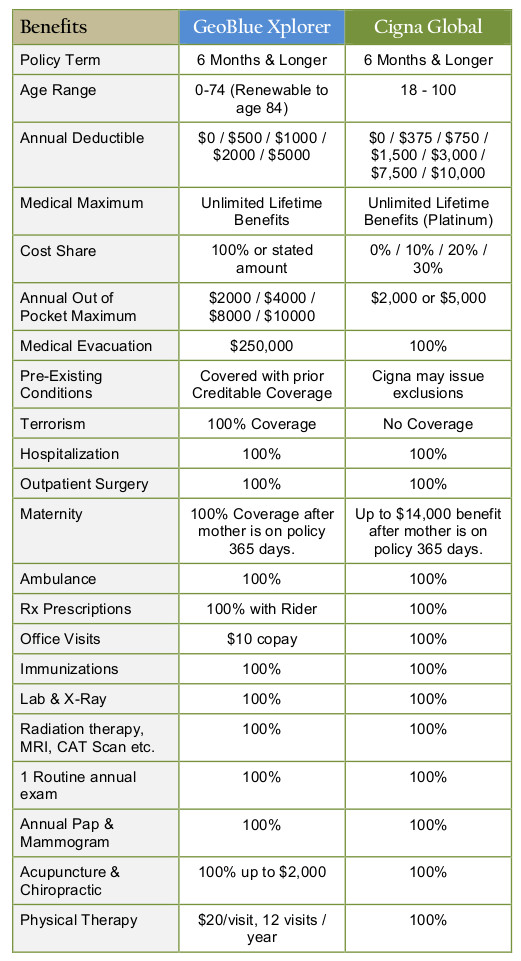 International Health Insurance policies ranges from a few days to permanent coverage. Short-Term plans are typically considered less than 6 months and Long-Term or Expat plans are 6 months and longer.  Both offer very comprehensive benefit options and allow you to see global contracted doctors along with non-contracted doctors.  24 hour customer service, emergency evacuation, hospital and outpatient services, prescription, office visits, physical therapy, maternity and many other services and coverage's you enjoy while working, living, studying or traveling abroad.
Both include 24/7/365 "concierge" services for any issues or emergencies.  Translators are also available to discuss your situation in the local language of the medical doctors, staff and hospitals to expedite care and treatment.
It's a worldwide, all-access pass to an exclusive level of care. Use your mobile device to quickly and conveniently connect to quality care across the globe for anything from emergency and hospital care, to outpatient doctor visits, lab and X-Ray to filling a prescription, translating your symptoms, showing proof of insurance and finding the right doctor wherever you may be worldwide.  Call me today and I'll help with your situation right over the phone.
GeoBlue is the trade name for the international health insurance programs of Worldwide Insurance Services, an independent licensee of the Blue Cross Blue Shield Association.  GeoBlue International health plans have a Global network of certified and approved physicians in over 180 countries, along with a domestic network that includes more than 90 percent of physicians and 80 percent of hospitals across the U.S.  Short and long-term Global travelers can leave home feeling confident that a trusted source of care is available at a moment's notice—no matter what country, town or time zone.  GeoBlue's highly qualified doctors speak your language, treat you like a friend, and bill GeoBlue directly for their services.

No Broker Fees … My advice and services are free of charge, and the premium you pay should you buy a policy through us will never be higher than going direct to the insurer.
John Conner
916-682-1117
john@johnconner.com

Information Request: